More flexible, More free.
A No Code, made for Wholesale,
Comprehensive Sales Management Cloud System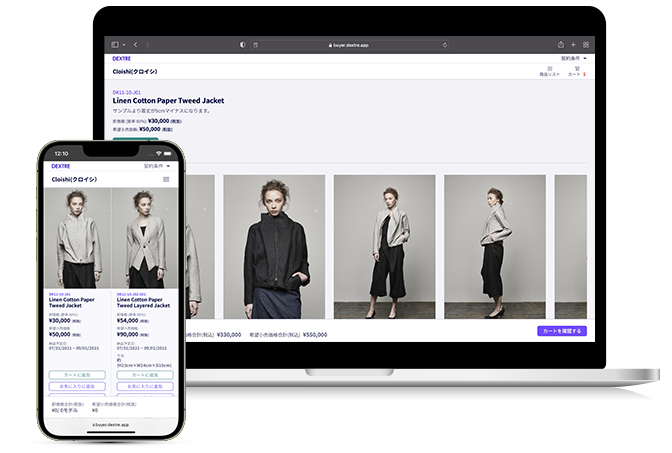 Focused on fashion and apparel companies, We power small, up and coming businesses, as well as listed companies with thousands of employees.
Clients using DEXTRE (Only published with permission)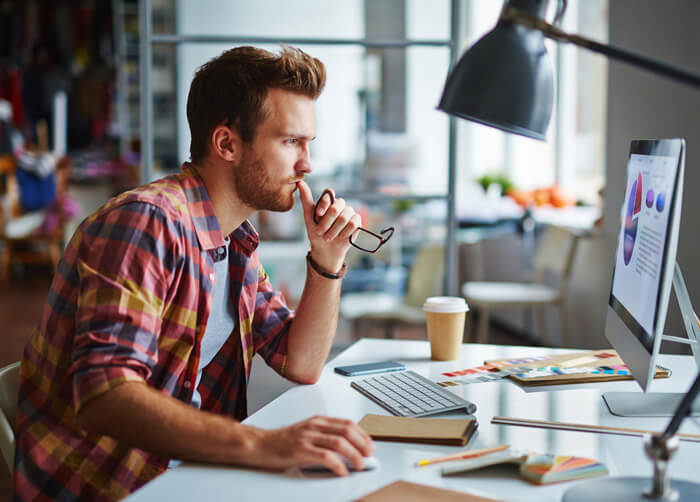 ABOUT
DEXTRE is a sales management cloud system,
that gives its users time to focus

on the creative aspect of their business.
Starting from a comprehensive ordering and order management system, DEXTRE solves issues with its support for various Transaction terms and Courier services. From there, all the way up to the creation and sending of Delivery and Billing Invoices, DEXTRE provides a fully automated and efficient cloud system that is flexible, "No-code" and provided at a low cost.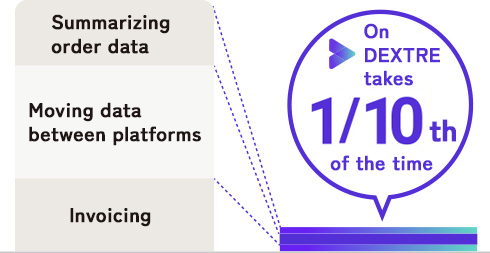 Cutting the time taken
on complicated aggregation
and analysis
From your trade partners and sales,
Production and inventory control has never been easier.
From the completely customizable product master data you have registered on DEXTRE, you are able to to easily export and aggregate data using completely customizable templates. Exported in CSV or Excel file formats, this data can be freely imported into other mission critical systems. Using the order data, you are also able to make Delivery invoices for specific items that have been ordered, instead of on a per order basis.
POINT
DEXTRE was made based on the following three points, to make your life easier.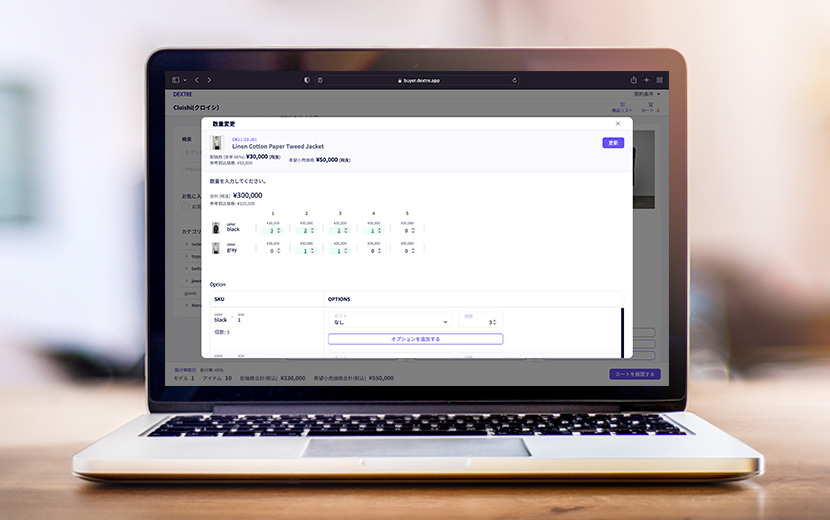 1
A flexible online ordering system
DEXTRE's online ordering system was built from the ground up to account for various Transaction terms, languages and currencies and situations, allowing you to deal with all of your clients orders worldwide through DEXTRE. Personal orders, Family sales and Closed sales are of course supported.
2
Orders, Delivery, Billing, Payment and Export
For clients without any other sales systems in place, DEXTRE can be used to hand the enter process of Selling your products,from ordering through to Delivery/Billing invoices, Payment management and Export forms. DEXTRE can be used as a comprehensive,completely stand alone comprehensive Sales Management Cloud System.
3
A comprehensive and extremely flexible export function, allowing you to easily export and use the data you have on DEXTRE anywhere.
In a world where companies use multiple different services and systems, for their accounting, banking, shipping etc, DEXTRE was made with this in mind, allowing you to freely customize how data is exported to allow you to very easily import this data into any other software you use, using Excel files.
MORE
Some of DEXTRE's other features
Buyer Management

Set individual Transaction terms, Currencies, discount rates and more for each individual Buyer. Choose which linesheets you wish Buyers to be able to access.

Editing orders using the Order Confirmation system

If your Buyer has made an error in their order, or a product has suffered production issues and won't be able to be delivered, fear not, as DEXTRE will allow you to adjust the order before confirming it, sharing the adjusts with the Buyer along the way.

SKU Template Settings

Depending on the company, and their niche, the way SKU's are managed can be wildly different. For example, a comapny making Leather shoes may want to manage their SKU's using (Material, Colour and Size) while a clothing company may wish to only manage SKU's by (Colour and Size.) DEXTRE allows you to freely create an SKU Template to suit your companies needs.

Product Options

Take the case of an eyewear company. They may want to have multiple options for lenses, with different price points, but want to manage inventory on a frame basis. Using the option feature on DEXTRE, you can allow clients to choose to add an 'option' to an SKU, which can alter the price.

Custom Attributes

Add attributes to Products and Buyers freely, for your convenience. By using Custom Attributes, you are able to associate any other data you please with Products or Buyers. This can be used to help align your data with other systems, keep data related to production on hand, and can of course be used to filter out unneeded information when exporting data.

Inventory Management

DEXTRE's inventory management was made on the basis of Locations and Labels. Using this, you are able to track the production of inventory items, as well as the real time inventory status of items being ordered through DEXTRE. You are even able to track the lending of products to consignee's and their sales simultaneously.

Multimedia on DEXTRE

Add images, videos as well as 3D (HTML5) images to your products on DEXTRE, with no limit on how many. You can also use this multimedia to automatically generate linesheet catalogs in PDF format.

Custom PDF

Linesheets Create A4 printable catalogs straight from your web browser. Choosing from various templates, you can adjust the information you wish to have included, the font size and the placement to your hearts content.