Order Management (BtoB)
DEXTRE takes the work out of taking orders,every step of the way.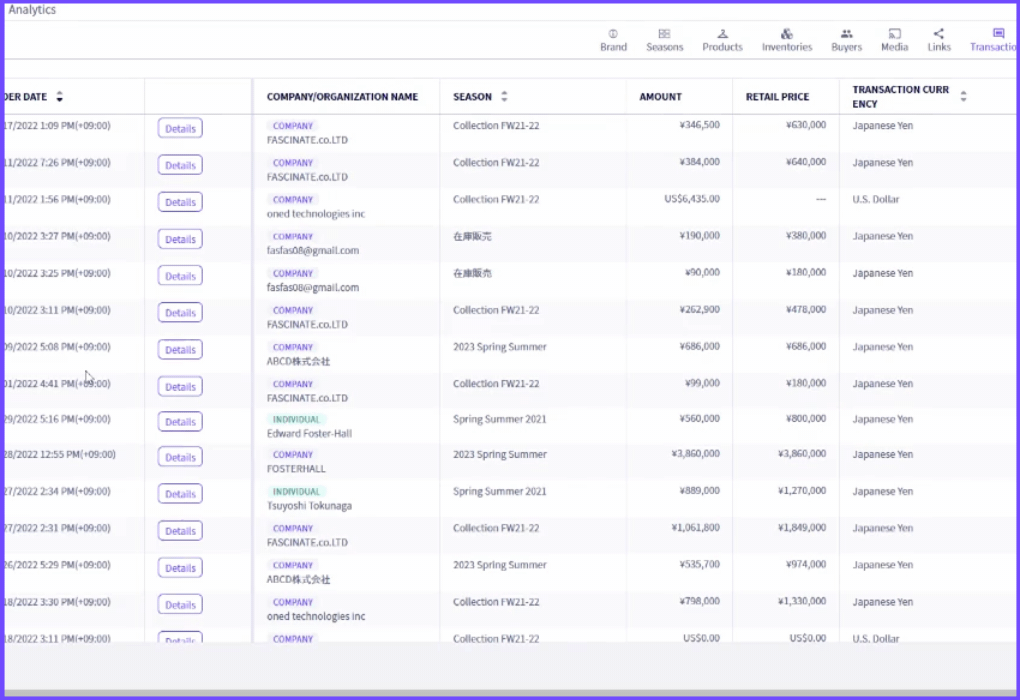 FEATURE
Five features of Order Management on DEXTRE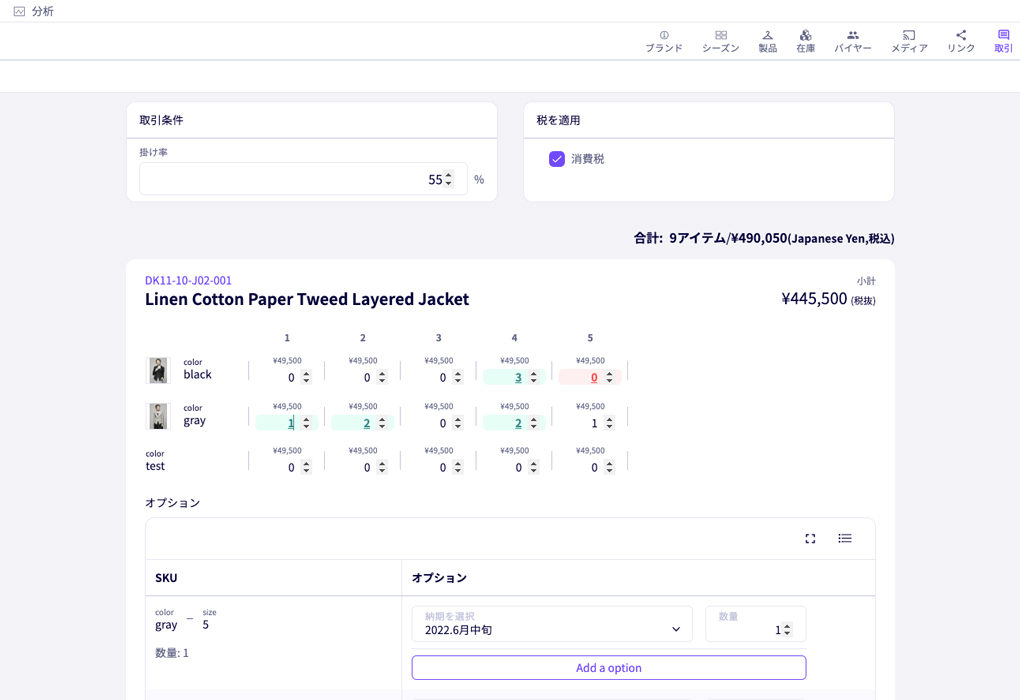 1
Optimizing your workflow
The entire process of taking orders on DEXTRE has been optimized for both the Maker and the Buyer, realizing you big gains in time that would have been wasted on manual tasks.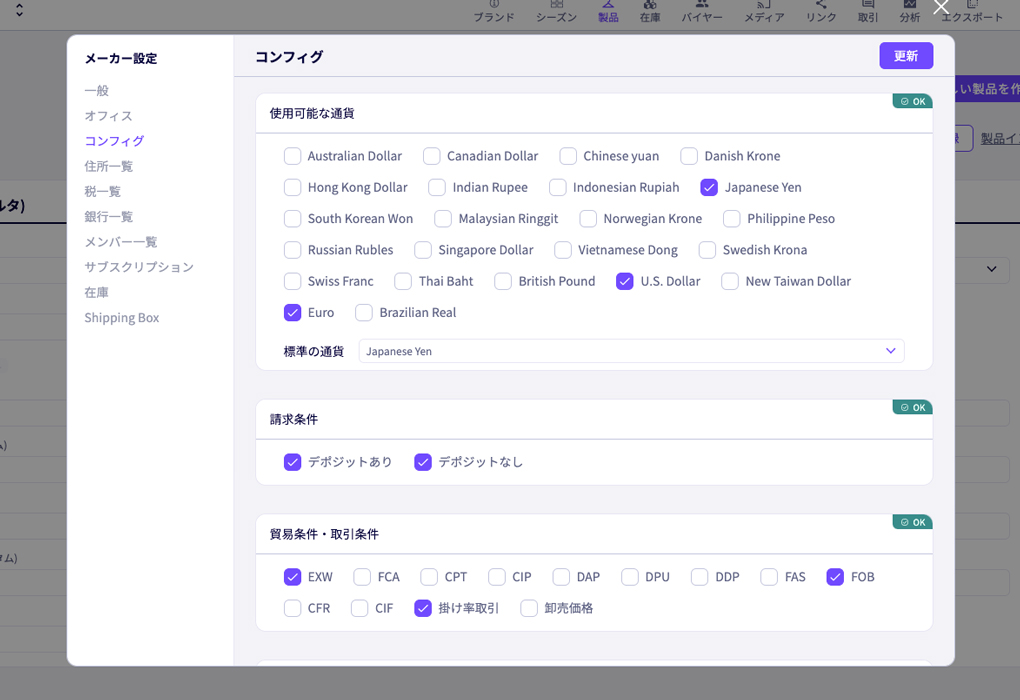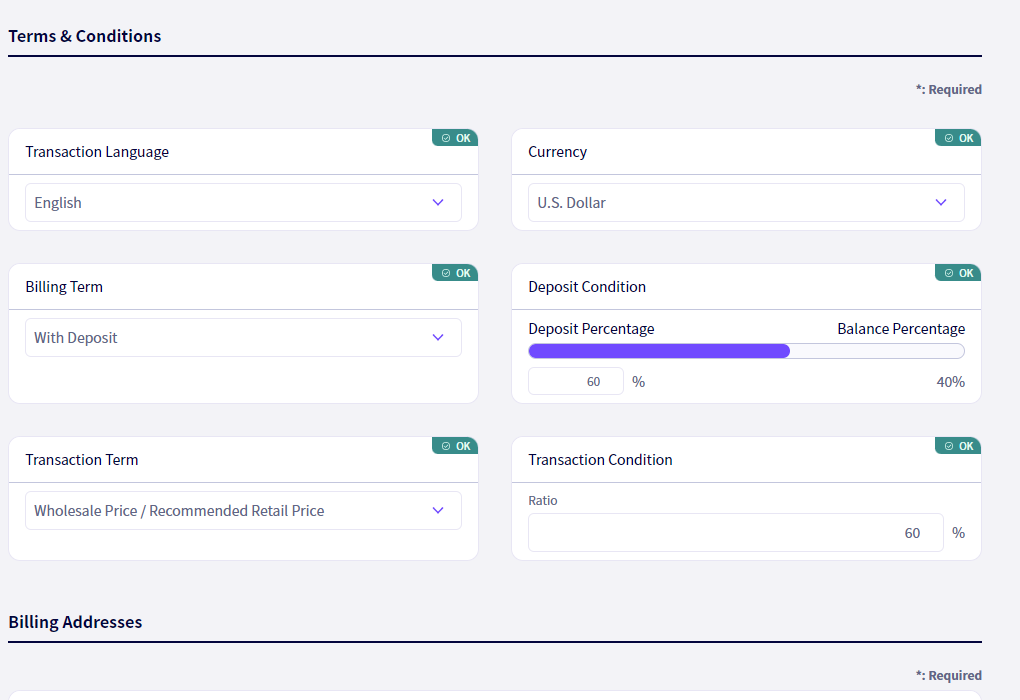 3
Set transaction terms for each Buyer
On DEXTRE, transaction terms, deposit rates and discount rates can be set for each individual buyer.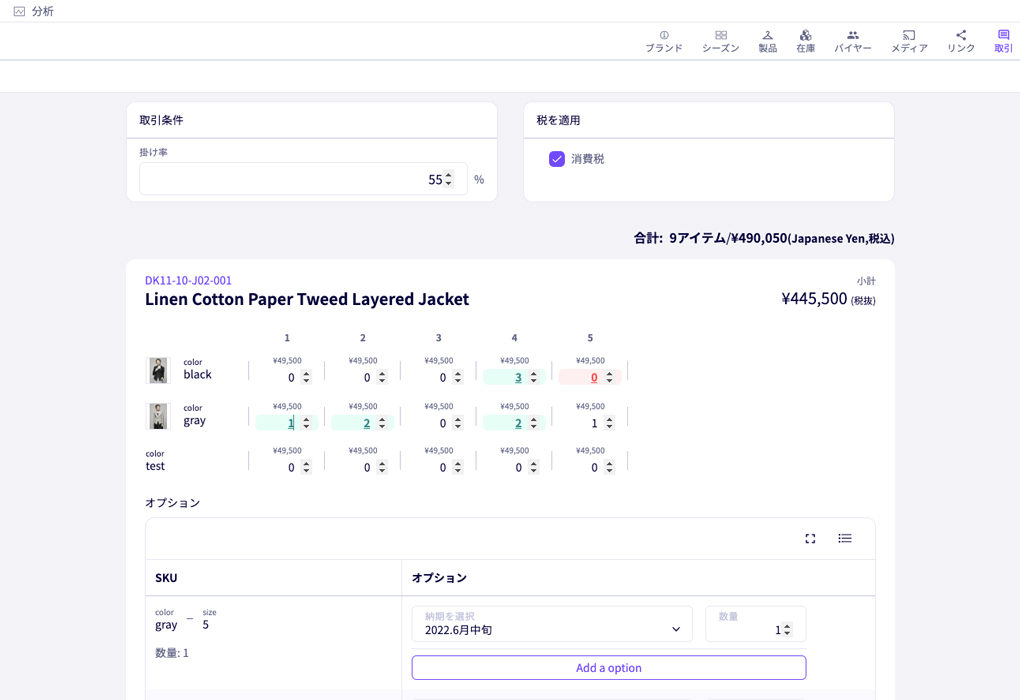 4
Adjusting orders after they have been received
After receiving an order, quantities of products can be reduced and WSP/RRP rates can be adjusted, among other things. These small adjustments that used to be able to be done on paper can now be done with online orders, through DEXTRE.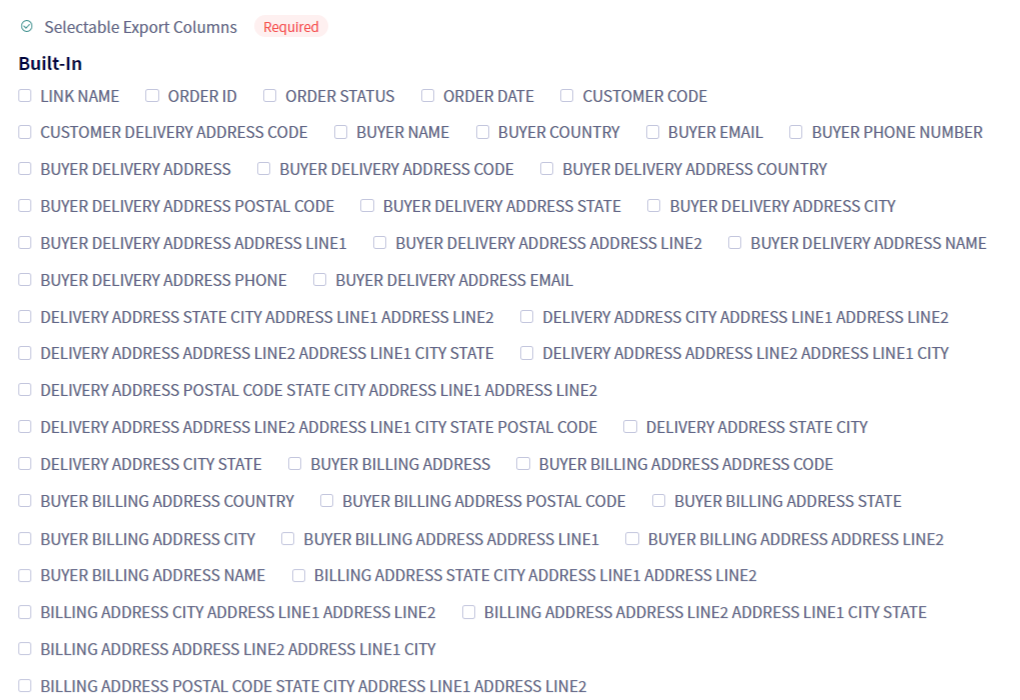 5
Order data exports made easy
Order data on DEXTRE can be easily exported in excel and csv formats, customized to your liking, perfect for importing into other systems or services you may be using. Thanks to this, DEXTRE can be introduced into your current workflow just for its easy to use, but incredibly powerful, ordering system.
Everything you need for order management in one place
Comprehensive order management

From taking orders to receiving payment, everything you need is on DEXTRE.
Invoice Creation

After taking and processing orders, all types of invoices and related confirmations can be made through DEXTRE.

Buyer Management

Transaction terms, currencies, languages and more can be set on a per Buyer basis.
Manage by Segment

Orders can be managed and filtered by segment (Personal orders, business orders, etc.)

Access control

Limit access to linesheets to only certain Buyers, or allow any Buyers to see them.

Support for Friends & Family Sales, Personal Orders

Taking personal orders at exhibitions is no problem with DEXTRE! Using the Inventory Management function, Friends & Family Sales can also be organized.
Exporting order data for use elsewhere

Order data on DEXTRE can be easily exported in excel or csv file format, with the data format made to match any other service you may be using.

Support for overseas orders

DEXTRE was built from the ground up to support the use of multiple transaction terms, currencies and languages.

Analytics built in

Keep an eye on your orders with the built in, easy to use, analytics function.

Deep dive analytics

Aggregate and look at order data filtered based on most any aspect of your products.
Create the documentation you need for overseas transactions

Commercial invoices, packing lists, etc. can be made with a few clicks on DEXTRE.

The full feature set, with no extra costs

All features are available to you from 20,000 JPY a month.
Export Billing and Delivery invoices for your accounting software

After making Delivery or Billing invoices on DEXTRE, you are able to export them to be imported into many popular pieces of accounting software, saving you a lot of time.
AWESOME
DEXTRE's Order Management is top class!
DEXTRE is perfect for those who feel managing orders is holding their business back!

With DEXTRE supporting Order taking, Order Management, Analytics, Invoicing, Payment Management and more, all you need from ordering to B billing can be found on DEXTRE. With the flexibility to handle complicated transactions, all the time you spent on order management will be drastically cut, leaving you with more time to spend else.

Customize transaction terms for each Buyer

By setting up and customizing transaction terms for each Buyer beforehand, They will see the price they will pay when looking at one of your linesheets. No need to fiddle around with settings afterwards.

Global order management

DEXTRE was designed with overseas orders in mind. Currencies, Incoterms and a wealth of Transaction Terms are supported so that no matter where your orders come from, managing them on DEXTRE will be easy.

Order Management made to fit your needs

With the incredible flexibility of DEXTRE, You'll be able to take orders not only in strict B2B settings, but personal and private orders as well. You can then filter these orders to deal with them separately if need be!

Easy to fit into your current workflow

DEXTRE's powerful export function allows you to easily integrate it with any other systems or services you have in your workflow. Being able to add prices reflecting different currencies and transaction conditions as well as custom attributes to each product means that moving data to other services will be easy with DEXTRE.

Use it anywhere, at anytime.

DEXTRE can be accessed from not just Computers, but also Phones and Tablets. So wherever you are, you are able to check on orders, or share Products with others around you.
Features for Makers and Buyers
MAKER
Maker Features
BUYER
Buyer Features
Ordering

Order from brands you are already connected with, or from Links provided to you, without worrying about what time of day it is. From making an order to receiving shipment, you can keep on contact using DEXTRE.

PDF Generation and Downloads

Generate PDF Catalogs with the click of a button for a whole linesheet, or only your favourite items. Download PDF documentation for orders you have already made.